After taking a hiatus last year, the Miami boat show (now renamed The Discover Boating Miami International Boat Show) is back in full force. The days have changed – the show now runs Wednesday to Sunday and this year that will be February 16-20. The show is spread out between the new The Miami Beach Convention Center and five other venues scattered around town so get bring comfortable shoes and taxi fare.
Above: A boat passes by the Miami skyline ahead of the Miami International Boat Show in 2022. Photo by Ryan McVinney for Boat Trader.
Many of the smaller family boats will be showcased on land so you can stay and play at the convention center the whole time while you check out new model trailer boats like pontoon boats, center console fishing boats, bay boats and deck boats – as well as a few models that highlight out-of-the-box thinking.
Boat Show Locations And Schedule
As mentioned above, The Miami International Boat Show 2022 will be scattered throughout Miami Beach (see a detailed MIBS 2022 BOAT SHOW MAP including booths and vendors), Biscayne Bay and downtown Miami, in 5 different locations that can be categorized roughly into two areas: in-water exhibitors and on-land exhibitors. The event will begin on February 16th, 2022 and continue until the evening of February 20th, 2022 – running from Wednesday to Friday, as outlined in the official hours below:
Wednesday, Feb. 16th | 10 AM – 6 PM (Prime Time Preview)
Thursday, Feb. 17th | 10 AM – 6 PM
Friday, Feb. 18th | 10 AM – 7 PM
Saturday, Feb. 19th | 10 AM – 7 PM
Sunday, Feb. 20th | 10 AM – 5 PM
Above: Yachts docked at Island Gardens Deep Harbor super yacht marina in the City of Miami, reflecting in the calm water of Biscayne Bay with the Miami skyline in the background. Photo by by FBLANCO Photograpahy on Pond5.
On-Land Exhibitors Location
Located in the heart of Miami Beach, The Miami Beach Convention Center will be the home for all of the on-land portions of the show and is easily accessible from the three major causeways: I-395 (McArthur Causeway), I-195 (Julia Tuttle Causeway) and Venetian Causeway.
In-Water  Exhibitors Location
The in-water activities will be centered around  Sea Isle Marina at One Herald Plaza near downtown Miami with approximately 150 vessels on display. New boats – both power and sail – along with boating gear will be on display at Museum Park Marina, and large superyachts will be on display at IGY Yacht Haven and Island Gardens on Watson Island, where the SuperYacht Miami showcase will be held.
Once you get your fill there, you can head over to see the bigger yachts. Below are a list of some of the new model debuts we're excited to see at MIBS 2022.
Sunseeker Predator 65
Above: A 2022 Sunseeker 65 Predator for sale on Boat Trader by Jefferson Beach Yacht Sales in St. Clair Shores, MI. Photo by Jefferson Beach Yacht Sales. 
Let's start big and take a look at Sunseeker's latest model that the renowned builder plans to debut at the Miami International Boat Show this year. This sharp and sporty new sedan-style cruiser features a modern carbon fiber hull and an open yacht feel. Built over the same hull design as her sister ship, the Sunseeker 65 Sport Yacht, this vessel is a single-level version of that boat, with more emphasis on cruising than fishing. She has 3 staterooms standard, and can accommodate a tender plus water toys and has even has a sweet hydraulic swim platform with steps that lower to create a luxury beach club feature that allows for easy access to the water.
NauticStar 249 Bay
Above: The all-new 249 Bay is an incredibly versatile vessel, with fishability and comfort features that the entire family will love. Photo by Nauticstar Boats.
For compact fishing fun, put the NauticStar 249 Bay on your shortlist. This center console packs a lot into 24 feet including an in-console 13-gallon livewell, a 30-gallon aft livewell, a 28-gallon bow fish box, and bow seating that can double as a casting platform. Add fold-down jump seats or elevated fishing chairs at the transom and you'll be in angling heaven. There are rod holders throughout, rocket launchers on the T-top, and dedicated rod storage under the gunwale to keep things tidy until it's time for the action.
Not that you'd want to, but you can carry up to nine of your friends. So, whether you're casting or celebrating the catch at the end of the day, a crowd can gather on the bow where flip-up backrests make everyone comfortable. The 249 Bay is powered by a single 300-hp outboard and draws only 24 inches so there's no place on a bay, a river or a lagoon that this boat can't go.
Beneteau Antares 8
Above: A 2022 Beneteau Antares 8 for sale on Boat Trader by Prestive Yacht Sales in Norwalk, CT. Photo by Prestive Yacht Sales. 
For less fishing and more cruising, check out a perennial favorite from Beneteau. The Antares 8 is just under 27 feet LOA and is loaded with cruising amenities the whole family will love. This design has a full interior with an inside helm station, a dinette and a mini-galley with a fridge and single-burner cooktop (gas or electric). For weekending, check out the sleeping accommodations and enclosed head below.
The helm is inside to starboard with a single seat and one multifunction display, an opening side window and a sunroof overhead to let the outdoors in. When the weather is perfection, relax or dine outside in the cockpit with seating for six around a folding table or lounge on the bow sun bed. The Antares 8 has been wowing crowds for a while, but they've added more lounge and stowage space and with a 250-hp outboard, wherever you're headed, you'll get there fast.
If the angler in you simply can't live with the idea of just cruising, keep in mind that you can also "fishify" the Antares 8 and cast to your heart's delight by spec'ing a tackle station, rod holders, livewell and fish box.
Sea-Doo Switch Pontoon
Above: A 2022 See-Doo Switch pontoon boat for sale by Lake Cumberland Marine Somerset, KY. Photo via Lake Cumberland Marine.
Pontoons have been the fastest-growing segment of boating for a few years and they've morphed dramatically. Today, you'll see fishing, luxury and wakesurfing toons but no design turned the pontoon on its ear as much as the new Sea-Doo Switch. It's the first pontoon model from Sea-Doo, a PWC builder, so not surprisingly, the Switch is a hybrid of the two concepts.
Available in 13-21 feet, the Switch can be outfitted for watersports or cruising. The dramatic difference is the way it's driven – with handlebars versus a wheel, and a Rotax jet engine versus an outboard motor. You can personalize this design by arranging the modular furniture as you like it and by adding a variety of gear that's a part of Sea-Doo's patented LinQ system. Spec a wakeboard holder, cooler, sport mirror, stowage box or cooler and make the boat your own. Depending on the model, you can carry up to nine people so it's a party that starts just under $18,000.
View 2022 Sea-Doo Switch Compact boats for sale on Boat Trader today.
Aquila 28 Molokai
Above: A 2022 Aquila 28 Molokai for sale on Boat Trader by MarineMax in St. Petersburg, FL. Photo by MarineMax.
Named after the Hawaiian island Molokaʻi in the central Pacific, known to be one of the most breathtaking islands on the planet, this boat is specifically designed to perform in some rough water offshore conditions. Power on two hulls is what the Aquila Molokai is all about. Inspired by similar layouts and designs on Hawaiian watercraft, the 28 Molokai is actually nearly 31 feet LOA. Built for island hopping in choppy waters she is fitted out as a center console with tons of fishing features.
Anglers can add gunwale rod holders, blue LED lighting, a rack of rocket launchers, outriggers, a tackle station and a livewell. But the Molokai is a versatile design with more in mind than fishing. Two layouts are offered – a center console or a cuddy cabin. You can also opt for a towing pylon for watersports, tank holders for diving, or a table between the bow seats for entertaining.
Designer Kirk Clark intended the Molokai to tackle the ocean with twin-hulled stability, excellent fuel efficiency and a lightweight vinylester resin infusion construction. The ride is cushioned to reduce both pounding and noise. The wraparound windshield protects the driver as well as the dual 12-inch Raymarine Axiom multi-function displays while the twin Mercury 200-hp outboards provide plenty of power. There aren't many places you can't go or many things you can't do with the 28 Molokai.
Schaefer V33
If it's a swanky ride you're looking for, spend time with the new Schaefer V33 walk-around that's fit to be a superyacht tender but can manage family boating or do commuter work to the lake cabin in style. The boat can be spec'd with a single or twin Volvo diesel inboards or twin 300-hp Mercury Verado outboards and joystick control.
The helm is sleek with an integrated hardtop, a tinted windshield and room for twin multi-function displays. Although most of the entertaining is centered on deck, there's a cuddy cabin with a convertible berth and a fully-enclosed head so weekending is a possibility. The summer kitchen is outside and behind the helm seats. It has a sink, cooktop, refrigerator and plenty of stowage for provisions. Enjoy dinner with friends at the aft dinette with a fold-out table, or catch rays on the sunbed up front.
No matter how you put it through its paces, the V33 can entertain up to 12 on day excursions and with the optional twin-axel trailer, it can go anywhere.
Hobie Mirage iTrek Series
So far, we've looked at small powerboats, but in the new Hobie series, the power will be you. The iTrek craft is part boat, part paddleboard and all fun. There are three models in the series including the iTrek 11 (single), iTrek 14 Duo (double), and iTrek Fiesta (quad). These inflatable boats are a combination of a kayak and a board. They're lightweight and pack down easily so you can store them in your garage. They all work on Hobie's MirageDrive Glide Technology that you peddle with your legs.
Paddles and pumps come with all three models as do elevated seats. The iTrek 11 is single kayak when you're seated but if you're looking for upper body exercise, just stand up and use the paddle on this ultra-stable "board". The iTrek 14 Duo takes the same concept but makes it wider and longer for even more stability and better tracking. Two seats come with this iteration so you can peddle with a friend, side-by-side. When you're looking for a party, the iTrek Fiesta adds four seats. Two people in front, two behind and the power of eight legs to get you going. When it's time to relax, the two front seats can be turned around, so everyone faces each other as well as the Yeti cooler that has its own attach point in the middle. It's a boat for four people for under $5,400.
These are just a few of the boats we're excited about for 2022. Don't forget that the Miami show is four days of outdoor fun where you can enjoy in-water demos, hands-on testing, contests and prizes, and live music, so make this a destination.
Boston Whaler 360 Outrage
Following its global debut on February 14, the new 360 Outrage will headline Boston Whaler's display at the 2022 Miami International Boat Show, boasting a full suite of new technology including the latest in propulsion, power and connectivity. The 360 Outrage will appear alongside 12 other boats, including the family-favorite 170 Montauk, the award-winning 320 Vantage, and the flagship 420 Outrage. The 360 Outrage comes standard with triple 300-hp Mercury Verado engines with Joystick Piloting (JPO). Available Mercury upgrades include: triple 450-hp Mercury Racing engines or twin 600-hp V12 Verado engines. The intuitive helm station features a standard 16" Simrad display, which works in concert with an available Seakeeper gyrostabilizer ensuring comfort in rolling seas
Invictus TT460
Premiering for the first time in the U.S. with her MIBS 2022 debut comes the Invictus TT460 sport cruiser yacht with a unique T-Top and walkaround deck. She has options for double cabin amidships and convertible v-berth in the bow for greater privacy with two separate cabins. With this boat, the Italian ship builder delivers a new dimension of style and refined allure that helps characterize their brand. Aesthetically, stretched and essential lines are the distinctive feature of Invictus hulls, widely appreciated since the launch of the first GT280. Balanced and precise signs, entrusting the dynamic effect to the dialogue between smooth and muscular surfaces and carefully calibrated openings.
Front Runner 33 Center Console
Like her bigger sisters, the 33 Center Console will have the same amazing ride and design just in a smaller footprint. The 33 CC will feature five macerated in-deck fishboxes, transom seating, dual helm seats, console with head, and available in both twin and triple engine power options. She will not be the run of the mill low 30's CC, between her flare, shear, and hull design she will have the attitude and demeanor of a larger boat.
Pardo E60 – US Premier
Trophy T24 Center Console (from Bayliner)
Building on the successful Trophy Series and its strategy to increase boater participation through its intuitive and feature-rich designs, today Bayliner announced the launch of the Trophy T24 Center Console (T24CC). The newest model as part of the Trophy lineup will make its official debut at the upcoming Miami International Boat Show (booth MB1744). With an overall length of 24 feet and starting at $64,900, the Trophy T24CC brings a high-performing, family-friendly center console fishing boat to the market at a price that will attract entry-level and experienced boaters alike. Built on a deep v-hull foundation, the T24CC expands Bayliner's center console capabilities accommodating up to 12 people onboard with increased fuel capacity, rugged fishability and more storage.
Nor-Tech 400 SuperSport
Although the builder has been very secretive about the new debut Nor-Tech 400 SuperSport model they plan to unveil at MIBS 2022, we know at least that it will be 40-footer with quad Mercury Racing 450R outboard engines. Nor-Tech will also have a 392 SuperFish and a 460 Flyer on display in the water at Sea Isle Marina.
Hylas H57
The 57-foot Hylas has never been in Miami before, although she has already won some awards in the US. If you're looking for a cool sailing boat with a very livable interior in this size range, this is your model to go check out. Here you can find some infos about the interiors and some images to have a better idea:
Beneteau Oceanis 34.1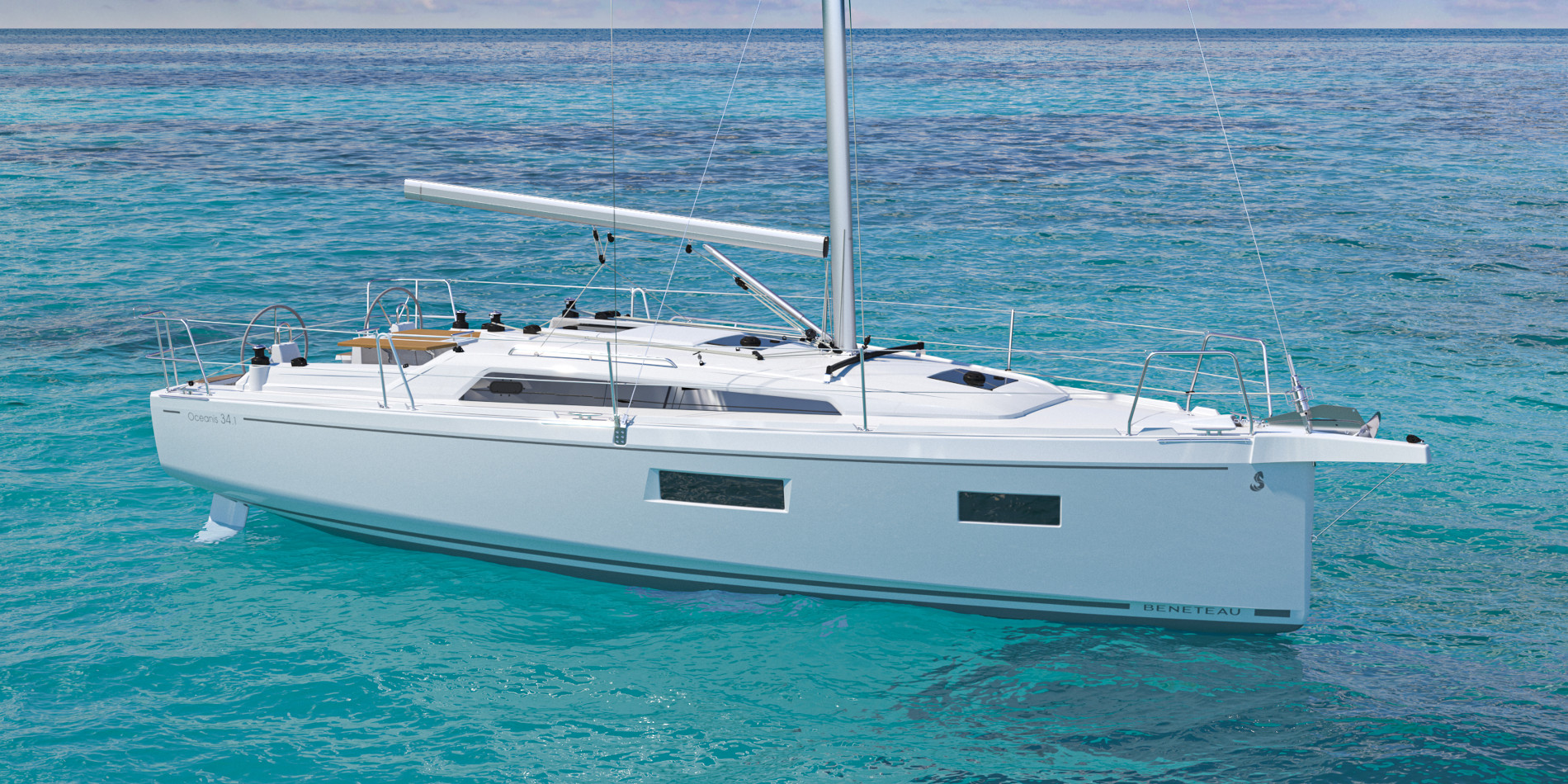 Above: A 2022 Beneteau Oceanis 34.1 yacht for sale on YachtWorld. Photo by Sail Place Inc in Muskegon, Michigan.
If sailing is more your thing, check out this new entry in the 35-foot range from respected boat builder Beneteau. The Marc Lombard-designed Beneteau 34.1 has more interior volume as well as a larger sail area for better performance. The basic suit of sails includes a 334-square-foot mainsail and a 197-square-foot-jib. A larger, 280-square-foot genoa can be added as can extra winches and a bowsprit that serves as the attach point for downwind sails. Three keels are offered including shoal, deep draft and swing for exceptional upwind work. Twin wheels and rudders are standard and the transom drops down to form a swim platform.
Remarkably, three cabins can be tucked into this compact sailboat model – including a master forward stateroom and twin cabins aft. Plus, two more crew can sleep in the salon in a pinch. A drop-leaf table converts to accommodate four for dinner and there is a port side fold-up navigation station. This is a trim but comfortable little package with everything a couple or small family needs for coastal cruising.
Honda Marine
Honda will showcase its newest outboard engines: the BF115, BF140 and BF150 high-power models. The recently introduced HondaLink® Marine smartphone application will also be exhibited, along with the new Honda Marine Interface (HMI) that delivers remote connectivity and will help "push the future of mobility".
Related
Annapolis Boat Show: New Boats Premier
New boats are hitting the water at the Annapolis boat show.
Fort Lauderdale Boat Show Debuts and 2022 Show Guide
Prep for the 2022 Fort Lauderdale International Boat Show with our guide to the hottest new debuts and...
Power Catamarans: A Comprehensive Guide
Power catamarans are the boat of choice for a select segment of the powerboat market. Here's why.