General
What is Click to Call?
Click to Call is a new way to talk to sellers on Boat Trader. When this feature is available, you'll see a red underlined phone number in the listing.
Click the red underlined phone number and the Click to Call window will appear: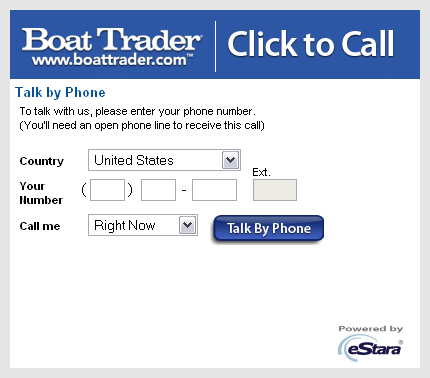 How does it work?
It's easy! Enter your info and Click to Call does the rest. Here's how it works:
Pick your country, enter your phone number and choose when you want to talk with the seller from immediately to 5 minutes from now.
Click Talk By Phone and your phone will ring based on the time you provided in Step 1.
Pick up the phone and you'll hear an automated greeting while your call is connected to the seller you selected.
Does Click to Call cost me anything?
Click to Call is free! The call comes to your phone as a regular phone call and is charged at the regular rate for incoming calls. There are no surcharges or hidden fees.
Why should I use Click to Call?
Click to Call means no more sitting on hold! If the seller is not available, you will be given the option of receiving a call back later. It makes life easier for you and saves you time. We know you like that.
How do you protect my privacy?
We take your privacy very seriously. When you enter a number, Boat Trader uses it to make the automatic connection between you and the seller. Your phone number is stored in a report that is available only to Boat Trader and the seller you contacted. We will not share your phone number with any other party. We will not sell or distribute your contact information.
What do I do now?
Don't waste a moment; Click to Call now!
Use the back button to return to the listing you were viewing, or Find boats now.