Back To Top
Viewing 1 - 28 of 227
Recently Updated: Newest first

Recently Updated: Oldest first

Distance: Nearest first

Distance: Farthest first

Year: Newest first

Year: Oldest first

Length: Longest first

Length: Shortest first

Price: High to Low

Price: Low to High
Offered By:

Naples Yacht Brokerage

Offered By:

Inflatable Boat Pro

Offered By:

Inflatable Boat Pro

Offered By:

Private Seller

Offered By:

Inflatable Boat Pro

Offered By:

Inflatable Boat Pro

Offered By:

Inflatable Boat Pro

Offered By:

Suncoast Inflatables

Offered By:

Reed Yacht Sales - Grand Haven Office

Offered By:

Private Seller

Offered By:

Jerry's Majestic Marine

Offered By:

Inflatable Boat Pro

Offered By:

Brewer Street Boat Sales

Offered By:

Brewer Street Boat Sales

Offered By:

Tender Care Boats

Offered By:

Coral Gables Yachts, LLC

Offered By:

Reed Yacht Sales - Grand Haven Office
Inflatable boats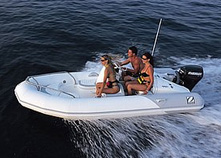 Inflatables that can be fully deflated are extremely easy to store, which helps save space in small areas of a boat or yacht. Commonly known for being dinghies or tenders to larger vessels, inflatables are also used for commercial purposes and in emergency situations.
What are inflatable boats?
Inflatable boats are small, trailerable vessels commonly used for activities such as day cruising, scuba diving and tender for larger boats. These types of vessels can vary in size from 8 feet to 29 feet with an average length of 14 feet. These boats are designed and manufactured by a wide variety of boat builders with hull types including deep vee, RIB, modified vee, roll-up and other designs. Boat Trader currently has 227 inflatable boats for sale, including 172 new vessels and 55 used boats listed by both individuals and professional boat and yacht dealers across the country.
What are the best inflatable boats?
Some of the most popular designers of inflatable boats right now include: Highfield, Zodiac, AB Inflatables, Gala and Walker Bay. These builders construct inflatable boats models with outboard, outboard-4S, outboard-2S, inboard and inboard/outboard propulsion systems, available in gas, diesel, electric and other fuel systems.
What are the most affordable inflatable boats?
Inflatable boats for sale on Boat Trader are available for a swath of prices from a sensible $1,219 on the modest side all the way up to $196,000 for the biggest, most advanced boats. Models with more power can accommodate motors up to 700 horsepower, while more economic utility models may have as little as 6 horsepower engines on them (although the average motor size is 78 HP).
Why are inflatable boats popular?
Inflatable boats are popular for their shallow draft and generally wider beam, attributes that make these boats appropriate for day cruising, scuba diving and tender for larger boats. Inflatable boats are also popular boats for rivers and lakes and other shallow fresh bodies of water.