Back To Top
434 boats
Recommended

Recently Updated: Newest first

Recently Updated: Oldest first

Distance: Nearest first

Distance: Farthest first

Year: Newest first

Year: Oldest first

Length: Longest first

Length: Shortest first

Price: High to Low

Price: Low to High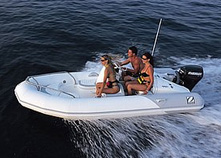 Inflatable boats
Inflatables that can be fully deflated are extremely easy to store, which helps save space in small areas of a boat or yacht. Commonly known for being dinghies or tenders to larger vessels, inflatables are also used for commercial purposes and in emergency situations.
Expert Inflatable boats Reviews
What are inflatable boats?
Inflatable boats are small, trailerable vessels commonly used for endeavors such as day cruising, scuba diving and tender for larger boats. Vessels of this kind can differ in size, with the smallest current boat listed at 8 feet in length, to the longest vessel measuring in at 37 feet, and an average length of 13 feet. These boats are constructed by a wide variety of boat builders with hull types including RIB, deep vee, modified vee, roll-up and other designs. Boat Trader currently has 433 inflatable boats for sale, including 332 new vessels and 101 used boats, listed by both private sellers and professional dealers across the country.
What are the best inflatable boats?
Some of the most widely-known builders of inflatable boats currently include: AB Inflatables, Walker Bay, Highfield, Zodiac and Grand Inflatables. These builders manufacture inflatable boats models with outboard, outboard-4S, inboard, inboard/outboard and outboard-2S propulsion systems, available in gas, diesel, electric and other fuel systems. In the past 30 days, the top, most-viewed inflatable boats brands on Boat Trader were Ab Inflatables, Highfield, Safe Boats, Walker Bay and Zodiac.
How much do inflatable boats cost?
Inflatable boats for sale on Boat Trader are available for a range of prices from a sensible $2,565 on the more economical boat models all the way up to $302,084 for the more sophisticated yachts. Models with more power can accommodate motors up to an enormous 1,585 horsepower, while the most modest, utility models may have as little as 8 horsepower engines on them (although the average power size is 60 HP).
Why are inflatable boats popular?
Inflatable boats are popular for their medium-depth draft and narrow beam, qualities that make these boats favorable for day cruising, scuba diving and tender for larger boats. From our current listings, the average number of passengers that inflatable boats can carry is 6 people with a maximum of 17. Also, with 433 inflatable boats now listed for sale and 51 boats added in the past 30 days, Boat Trader is confident you'll find the boat you are looking for.