Back To Top
Viewing 1 - 28 of 11,863 for sale
Recently Updated: Newest first

Recently Updated: Oldest first

Distance: Nearest first

Distance: Farthest first

Year: Newest first

Year: Oldest first

Length: Longest first

Length: Shortest first

Price: High to Low

Price: Low to High
Offered By:

Haney Marine and Outdoor

Offered By:

Haney Marine and Outdoor

Offered By:

Haney Marine and Outdoor

Offered By:

Haney Marine and Outdoor

Offered By:

Haney Marine and Outdoor

Offered By:

Haney Marine and Outdoor

Offered By:

Haney Marine and Outdoor

Offered By:

Copher's Boat Center

Offered By:

Thayer Marine, Inc

Offered By:

Copher's Boat Center

Offered By:

Champion Marine and Motors LLC

Offered By:

Champion Marine and Motors LLC

Offered By:

Champion Marine and Motors LLC

Offered By:

Factory Direct Marine & RV

Offered By:

Factory Direct Marine & RV

Offered By:

Lewis Boats, Inc

Offered By:

Lewis Boats, Inc

Offered By:

Lewis Boats, Inc

Offered By:

Lewis Boats, Inc

Offered By:

Lewis Boats, Inc

Offered By:

Lewis Boats, Inc

Offered By:

Thayer Marine, Inc

Offered By:

Champion Marine and Motors LLC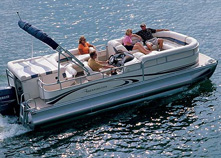 Pontoon boats
Pontoon boats, also sometimes called "party barges," are designed with two metal pontoons (also called tubes or even "logs"). Unlike earlier versions that were basically just platforms fixed on top of two floating pontoons, the new designs often feature three pontoons known as "tri-toons" that are hydrodynamically shaped and efficient in the water, with the middle pontoon lower than the two outboard ones to promote banking and steering that can often rival that of monohulls. Combined with high-powered modern outboards, some of the new breed of pontoons can skim over the water at top speeds over 40 mph, making fast passages between home and fun zone. They're still relatively uncommon in areas where the water can get downright rough, but they're certainly gaining momentum on the coasts. Meanwhile, inland boaters are experiencing increasingly refined fun aboard their pontoon boats, not only with higher speed and maneuverability, but with pop-up changing tents, enclosed heads, built-in coolers, outdoor cooking and refrigeration, and ever-better ergonomics in seating and swimming areas.
A great boat for entertaining, some models can be adapted for freshwater fishing or for sport-like performance. You can find a pontoon that will fit every need: performance pontoons, watersports pontoons, luxury pontoons, fishing pontoons, family-friendly pontoons, mini pontoon boats, and value pontoons.
For sheer comfort afloat, combining an ideal platform for swimming, lounging, and partying with enough speed and maneuverability to tow skiers, tubers, and wakeboarders, it's hard to beat a modern pontoon boat.
What are pontoon boats?
Pontoon boats are medium-sized, trailerable vessels generally used for on-the-water activities such as day cruising, freshwater fishing and watersports. These vessels can range in size, with the smallest current boat listed at 16 feet in length, to the longest vessel measuring in at 35 feet, and an average length of 23 feet. These boats are designed and manufactured by a wide variety of boat building companies with hull types including pontoon, modified vee, flat, monohull and other designs. Boat Trader currently has 12,525 pontoon boats for sale, including 10,718 new vessels and 1,807 used boats, listed by both private sellers and professional boat dealerships across the country.
What are the best pontoon boats?
Some of the most notorious designers of pontoon boats as of today include: Bennington, Sun Tracker, Sylvan, Harris and Barletta. These builders produce pontoon boats models with outboard, outboard-4S, inboard, inboard/outboard and outboard-2S propulsion systems, available in gas, diesel, electric and other fuel systems. In the past 30 days, the top, most-viewed pontoon boats brands on Boat Trader were Avalon, Bennington, Manitou, Premier and Sun Tracker.
How much do pontoon boats cost?
Pontoon boats for sale on Boat Trader are available for a range of prices from a sensible $9,996 on the most reasonably-priced watercraft all the way up to $246,550 for the most luxurious yachts. Models with more power can handle motors up to 700 horsepower, while the smallest utility models may have as little as 20 horsepower engines on them (although the average power size is 150 HP).
Why are pontoon boats popular?
Pontoon boats are popular for their very deep draft and average beam, attributes that make these boats a great option for day cruising, freshwater fishing and watersports. From our current listings, the average number of passengers that pontoon boats can hold onboard is 12 people with a maximum of 20. Also, with 12,525 pontoon boats now listed for sale and 2,027 boats added in the past 30 days, Boat Trader is confident you'll find the boat you are looking for.