Back To Top
Viewing 1 - 28 of 3,261 for sale
Recommended

Recently Updated: Newest first

Recently Updated: Oldest first

Distance: Nearest first

Distance: Farthest first

Year: Newest first

Year: Oldest first

Length: Longest first

Length: Shortest first

Price: High to Low

Price: Low to High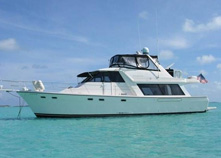 Motor Yachts
Motor Yachts are larger pleasure craft, generally 25 feet or longer, and are designed to give greater preference to indoor space- larger cabins, roomier indoor salons and smaller, but practical, outdoor spaces.
Expert Motor Yachts Reviews
What are motor yacht boats?
Motor Yacht boats are larger size vessels generally used for activities such as overnight cruising and day cruising. Vessels of this kind can span in size, with the smallest current boat listed at 24 feet in length, to the longest vessel measuring in at 121 feet, and an average length of 45 feet. These boats are constructed by a wide variety of boat builders with hull types including modified vee, deep vee, semi-displacement, planing and other designs. Boat Trader currently has 3,242 motor yacht boats for sale, including 706 new vessels and 2,536 used boats, listed by both individuals and professional boat dealerships across the country.
What are the best motor yacht boats?
Some of the most notorious manufacturers of motor yacht boats right now include: Sea Ray, Carver, Riviera, Sunseeker and Hatteras. These builders manufacture motor yacht boats models with inboard, inboard/outboard, outboard, outboard-4S and other propulsion systems, available in diesel, gas, electric and other fuel systems. In the past 30 days, the top, most-viewed motor yacht boats brands on Boat Trader were Bayliner, Carver, Chris-Craft, Hatteras and Sea Ray.
How much do motor yacht boats cost?
Motor Yacht boats for sale on Boat Trader are listed for a swath of prices from a sensible $12,587 on the lower-end all the way up to $12,313,299 for the bigger-ticket boats. Models with more power can accommodate motors up to an enormous 4,899 horsepower, while the smallest utility models may have as modest as 165 horsepower engines on them (although the average power size is 960 HP).
Why are motor yacht boats popular?
Motor Yacht boats are popular for their deeper-depth draft and very wide beam, attributes that make these boats favorable for overnight cruising and day cruising. From our current listings, the average number of passengers that motor yacht boats can accommodate is 12 people with a maximum of 56. Also, with 3,242 motor yacht boats presently listed for sale and 597 boats added in the past 30 days, Boat Trader is confident you'll find the boat you are looking for.