Back To Top
Viewing 1 - 28 of 819
Recently Updated: Newest first

Recently Updated: Oldest first

Distance: Nearest first

Distance: Farthest first

Year: Newest first

Year: Oldest first

Length: Longest first

Length: Shortest first

Price: High to Low

Price: Low to High
High Performance boats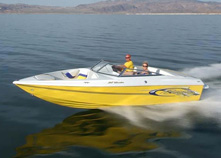 Performance boats are high-speed machines designed to look good and get boaters from one place to another fast. Often used in races or communal "runs" for sport, speed boats are designed for boaters with a "need for speed".
What are high performance boats?
High Performance boats are medium-sized, trailerable vessels commonly used for activities such as day cruising and racing. This type of vessel can differ in size from 18 feet to 52 feet with an average length of 33 feet. They are built by a wide variety of boat makers with hull types including deep vee, modified vee, catamaran, pontoon and other designs. Boat Trader currently has 819 high performance boats for sale, including 112 new vessels and 707 used boats listed by both individuals and professional dealers across the country.
What are the best high performance boats?
Some of the best-known designers of high performance boats currently include: Formula, Fountain, Baja, Cigarette and Donzi. These builders produce high performance boats models with inboard/outboard, outboard, inboard, outboard-4S and outboard-2S propulsion systems, available in gas, diesel, electric and other fuel systems.
What are the most affordable high performance boats?
High Performance boats for sale on Boat Trader are listed for a variety of prices from a sensible $11,573 on the low-end all the way up to $998,549 for the higher-end boats. Models with more power can hold motors up to a tremendous 4,800 horsepower, while the smallest utility models may have as modest as 229 horsepower engines on them (although the average engine size is 850 HP).
Why are high performance boats popular?
High Performance boats are popular for their medium-depth draft and generally wider beam, qualities that make these boats ideal for day cruising and racing. High Performance boats are also popular boats for coastal, inshore and offshore boating.