Back To Top
Viewing 1 - 28 of 32
Recently Updated: Newest first

Recently Updated: Oldest first

Distance: Nearest first

Distance: Farthest first

Year: Newest first

Year: Oldest first

Length: Longest first

Length: Shortest first

Price: High to Low

Price: Low to High
Buddy Davis boats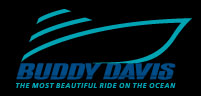 Buddy Davis boats are famous for their rough-water abilities and greatly flared bows—no surprise, since these hulls were born and bred along the North Carolina coast, also knows as the "Graveyard of the Atlantic." But today Buddy Davis is owned by the Egg Harbor group, and construction takes place in New Jersey. The line is also greatly expanded from what Davis once offered; there was a time when large sportfishing yachts built with the cold-molded process were the only offering of the company, but today, they build a line ranging from 28' to 70' which includes center console, express, and convertible models. These are molded fiberglass fishing machines, with a high level of customization available on the larger models. Well-appointed interiors with excellent joinery and fit and finish are also trademark traits of Buddy Davis boats.
What are Buddy Davis boats?
Buddy Davis is a long-established boat brand in the marine industry, manufacturing boats that span in size from 28 feet to 61 feet. Boat Trader currently has 32 Buddy Davis boats for sale, including 7 new vessels and 25 used boats listed by both individual owners and professional boat dealers mainly in United States. The oldest model listed on Boat Trader was built in 1980 and the newest was built in 2019.
What kind of boats does Buddy Davis build?
Buddy Davis designs and builds boats with familiar hull types including deep vee, modified vee, planing, semi-displacement and other. They are generally favored for conventional boating on-the-water activities such as overnight cruising, saltwater fishing, day cruising and freshwater fishing. Buddy Davis constructs models with inboard, outboard and outboard-4S propulsion systems, available in diesel, gas and other fuel systems.
How much do Buddy Davis boats cost?
Buddy Davis boats for sale on Boat Trader are available for a swath of prices, valued from $119,500 on the lower-priced models all the way up to $1,530,000 for the most expensive boats. Higher performance models can take motors up to 5,880 horsepower, while affordable more functional models may have as little as 500 horsepower engines (although the average motor size is 1,535 HP).
Why are Buddy Davis boats popular?
Buddy Davis is popular for their Center Console, Sport Fishing, Saltwater Fishing, Bay and Express Cruiser among other classes and models. Overall these boats have deeper draft and exceptionally wide beam, features that make them appropriate for overnight cruising, saltwater fishing, day cruising and freshwater fishing Given their classic, crowd-pleasing status as a popular, established boat brand, used Buddy Davis boats in good condition often make great candidates for boat repowering projects.
What is the best Buddy Davis?
Some of the most widely-known Buddy Davis models currently include: 28 CC, 28CC, 48 Express, 61 Sportfish and 34 cc.